About 38th & Chicago
The 38th and Chicago Business Association was  founded with the professed goal of creating an environment where businesses and non-profits that surround our active and important Minneapolis node can come together to discuss identity, collectively network, share concerns, and fuel inspirations for our community. Since that time the 38th and Chicago Business Association has grown and strengthened, serving a broader demographic of business owners and neighborhood residents.
The Prime Corridors
Both 38th Street and Chicago Avenue form the axis of four engaging Minneapolis neighborhoods; Central, Powderhorn Park, Bancroft and Bryant, which collectively are home to nearly 25,ooo residents. The 38th and Chicago Business Association seeks to bring those communities together, increasing their strength and the vitality of the businesses that serve them.
We strongly encourage you to get involved.  Because the 38th and Chicago Business Association is a small organization (in an area that is seeing tremendous growth), you have the opportunity to have a powerful voice toward our future.  We value all visions and thrive on our community's diverse ideas.  You may elect to become a part of our board, attend our meetings, share your thoughts as a concerned resident, or otherwise further our association's commitment to serve the community. Simply call us at 612-622-7801 or visit us at one of our scheduled meetings.
Welcome to 38th and Chicago!
In the News

Blue Ox Blog


Up and Coming Neighborhoods- MN Monthly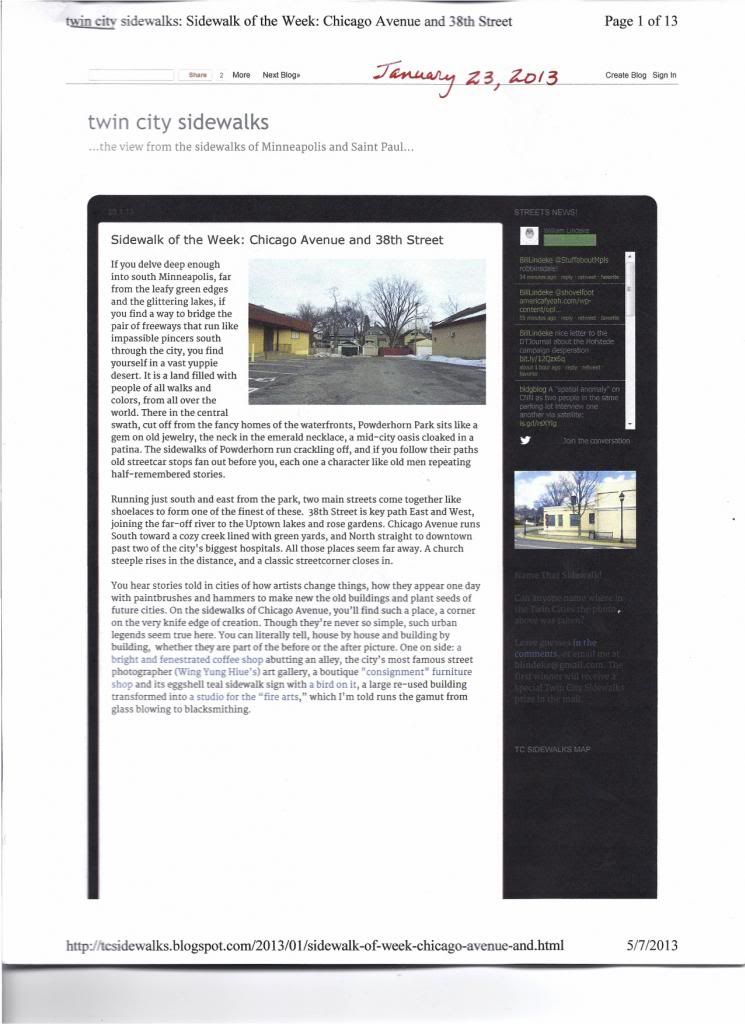 Twin Cities Sidewalk of the Week
Become a part of the process
38th and Chicago Business Association is dedicated to creating a positive environment for small businesses to flourish. We are continually developing programs, projects and workshops to encourage positive growth and support the economic development in the adjoining neighborhoods that encompass our corridor.
Becoming a member of the 38th and Chicago business association allows you to network with other entrepreneurs, stay up on industry news, work with the city of Minneapolis on changes in the area, find new customers and pick up tips and advice for making your company stronger. Your involvement is vital to our success, so please enjoy yourself by walking throughout the neighborhood and explore the wonderful resources that are currently doing business in Central, Powderhorn, Bryant and Bancroft neighborhoods.
* For a list of properties available for lease or purchase in the area, please contact us at info@38thchicago.com